Is it Depression or Just Lost Interest?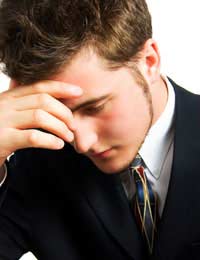 Q.
I never really thought i might have depression until one of my colleagues pointed it out to me and after looking at your site and the symptoms, I actually may think I do.
The main factor in this is lack of interest in work as I used to love my job so much but lately I have just lost interest.
Can I deal with this myself without going to a GP or would you advise I do this?
(Mr C Todd, 10 September 2008)

A.
I can really sense your concern and confusion as you wonder if you are depressed. Sometimes, a comment from a friend, family member or colleague can draw attention to something you just haven't noticed. It seems you have two questions: first, are you depressed and second, should you see your GP? To properly answer the first question, however, requires a visit to your GP.
You mentioned that the main factor is a loss of interest in work. Depression differs from the temporary responses that occur to changes in various areas of our lives such as work. However, you talked about looking at the website and reading about symptoms you are experiencing, which suggests that you could be depressed. While the loss of interest in work is one factor, additional symptoms such as poor sleep and withdrawal from activities you once enjoyed would mean that what you are experiencing is more likely depression rather than a typical mood fluctuation.
As to whether you can deal with these feelings – the answer may very well be that yes, you can, but why not try to deal with it yourself under the guidance of your doctor? In this way, you can perhaps try more self-reliant methods such as counselling first but you have the support of your doctor, who can better diagnose if you are depressed. Sometimes, it can feel as though seeing your doctor involves a loss of personal control and you may think it represents an inability to handle things yourself. Actually, the opposite is true. By seeing your doctor, you are ensuring you receive accurate information from a medical professional, which can empower you to make changes yourself while receiving help along the way, if and when you need it.
In the meantime, I would initially recommend that you really take a good look at any aspects of your career that might not be satisfactory for you right now. Can you pinpoint any recent changes to your workflow or workplace? Or, do you feel that perhaps you have changed but your career is the same? You also need to ask yourself if this lack of interest is a feeling that comes and goes, or one that is heavy and present most of the time. With your doctor's support, you can explore your feelings around work and whether they are indicative of depression. I wish you all the best.
You might also like...