How to Detect The First Signs of Depression in a Loved One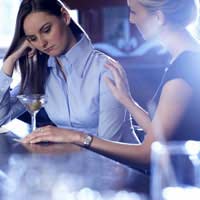 Identifying depression in a loved one can be challenging because your loved one may not even be willing to acknowledge his or her symptoms of depression. It's important to recognise the early warning signs however, because this can lead to earlier diagnosis and treatment, with a greater chance of success. Once a person has sunk into a deep depression, suicidal thoughts may be more evident and it can be a lot harder to effectively treat the depression.
What Changes Are Noticeable?
Some changes may be subtle but others will more clearly indicate that depression is likely present in your loved one. Energy levels can change a great deal when depression is present. Your loved one may be highly excitable and restless or may be quiet and sluggish. Moods can change quickly, with a 'high' mood of happiness and energy one minute, and a sudden change to a 'low' mood of misery and hopelessness. Your loved one may also feel extremely negative about his or her appearance and worth as a person. It can seem confusing to you when you see a capable and intelligent person but your loved one sees him or herself as useless and unaccomplished. Some of the other symptoms you may initially notice are that your loved one is:
Crying a great deal
Restless
Sensitive to any comments
Eating more or less than usual
Abusing drugs or alcohol
Unmotivated to do activities that were once pleasurable
Easily distracted
Withdrawing from people
Easily irritated, angry or resentful
How to Talk About Depression
You can try to gently bring up the subject of depression with your loved one. Your loved one may, however adamantly deny feeling depressed and may in fact, put on a falsely happy mood. Your loved one may aggressively deny the symptoms, and cite various other sources as responsible for stress. Despite being unhappy, they may put on a facade and try to prove that things are fine, when this is far from the case. They may feel ashamed about their depression and it can help for you to reassure them that there is medical help available.
It may also help to encourage and reinforce any positive behaviours and qualities in your loved one. Let him or her know how much you value them and point out the wonderful qualities that you see in them. You may also wish to ask directly how you can help. Your loved one may need to hear that you are willing to offer support; he or she may also feel more at ease seeing a doctor if you are there to accompany them during the visit. Above all, acknowledge their feelings and be compassionate and reflective about what they are going through. Depression isn't simply a fleeting sadness and it can help to let your loved one know that you recognise the severity of the situation.
It is always possible that your loved one isn't depressed and may simply have been dealing with one particular rough patch in his or her life. The worst thing that will likely happen is that your loved one isn't depressed but appreciates your care and interest in how he or she is feeling. As such, this outcome is really more of a best case, although you may still feel uncomfortable having broached the subject.
Dealing With Your Own Feelings of Guilt
When you sense that a loved one could be depressed, you may feel guilt and you may also question, 'Is there something I could have done?' It's difficult to deal with the need to protect a loved one and to wonder 'How could this have happened?' You are not, however, responsible for the depression your loved one may be experiencing. Depression tends to be complex and although it can result from a prolonged reaction to an event, such as bereavement, it often results from a mingling of various factors in an individual's life. You are not to blame for your loved one's depression and your concern and care will likely be of aid to encourage proper treatment and diagnosis.
Helping Both of You
Depression can really keep your loved ones from enjoying life to the fullest and they are fortunate to have a person who cares about their well-being. When a loved friend or family member suffers from depression, you can provide support and warmth but don't forget that a loved one's depression can take its toll on you as well. If you find you are having trouble handling your worry and distress over a loved one's behaviour and feelings, then consider joining a support group or talking to a friend or counsellor. It's important to remember that while you're providing care and support for your loved one, you don't want to stop caring for yourself.
You might also like...