Can Fathers Experience Postnatal Depression?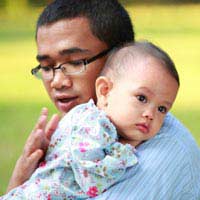 Postnatal depression is a major problem for many women, with plenty of attention given to prevention, detection and treatment. But for men who experience strong emotions – often depressive – around their new family member, their experience is often ignored.
Reality of Postnatal Depression in Men
Can men actually suffer from postnatal depression? Is it just a phase? According to a recent study, it is not a phase. The answer is yes – men do experience postnatal depression.
It is not, however, quite the same as the form of postnatal depression that women experience, which is complicated by many factors such as hormonal changes. It still deserves recognition and treatment. If left untreated, consequences can be similar to those seen for postnatal depression in women, where the entire family can suffer the results.
Postnatal Depression in Men
A new study suggests that approximately ten percent of fathers can experience postnatal depression. In fact, they can experience prenatal depression as well. The rates tend to accelerate in the three to six month postpartum time frame.
Dangers of Prenatal and Postpartum Depression
Research has already made it clear that there are many dangers that occur when a mother experiences these kinds of depression. Dangers are ones relevant directly to the mother herself as well as other family members. It is a common kind of depression and can be mild or severe.
By now looking at men, researchers found some interesting information. They estimated that the occurrence of this kind of depression in men was around ten percent. Lower rates were seen in the first three postpartum months while the highest incidence was in the six-month postpartum period.
Geographical Differences
Another intriguing finding was that there were noticeable differences from one study location to another. Higher incidences of prenatal and postpartum depression in men were seen in the United States versus internationally.
Depression in Mothers and Fathers
Also, there was a link between depression seen in mothers and fathers. Where one parent experiences depression, the other is more likely to follow suit or be experiencing it based on a common, shared predisposing factor.
This means that treatment and any kinds of intervention methods would need to focus on both parents as a couple rather than just one or the other. It might also help bring in resources for the other parent to ensure they are getting the support they need.
Better Early Detection of Postnatal Depression
Given that postnatal depression not only harms those who experience it but also the infants and other children involved, it is very important to identify risk early on. Follow-up studies to this one are aimed at identifying risk factors in fathers. One such risk factor, as mentioned, is a mother who has already been identified as high risk or currently experiencing depression. Another approach might be a questionnaire for fathers to fill out, which would be used by the managing physician.
Improved Awareness and Treatment
Postnatal depression is common in women and appears to be a problem in men as well. Now that we know men suffer from it as well, it is hoped that we can begin to find ways to increase awareness, detection methods and treatment options so the entire family is protected and feels positive.
You might also like...