Depression After Miscarriage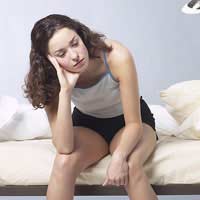 Dealing with sadness and anxiety after a miscarriage is common for both women and men. Learning when these feelings are a sign of depression is important to ensure you get the support that you need after a miscarriage.
There is a line between the normal feelings of grief after miscarriage, and depression. It is typically when these feelings persist that you should see a doctor. Even beforehand, it is important that you get support, perhaps through a counsellor so that you have an opportunity to work through the feelings from your loss.
Feelings After a Miscarriage
Following a miscarriage, either partner can experience feelings such as sadness, loss of appetite and disturbed sleep. Most people can expect to experience these kinds of emotions after a miscarriage. This does not, however, mean that you have clinical depression. Rather, it is a normal grief response in most cases and will not require medical intervention.
Hormonal Consequences of Miscarriage
After a miscarriage, it can take several weeks for a woman's hormones to be restored to normal, non-pregnancy levels and cycles. The hormonal changes can increase the likelihood of severe mood changes, anxiety and sadness.
These changes are normal and do not mean a woman will go on to develop clinical depression. It's important during this time to be under medical care and have the support of someone you trust, whether it's a friend or a counsellor.
Guidelines to Assess Depression
While we do have clinical guidelines for diagnosing depression, it is difficult to say exactly when the line is crossed from the normal grief response to depression. Most researchers who have examined this area do not have a consolidated agreement on how to differentiate precisely between normal grief and depression.
Your Daily Life
As a simple approach, if your feelings are affecting your daily life and ability to function properly, particularly where it persists for several months, then it is suggested that you see your doctor. Only your doctor can give you the right diagnosis and ensure you get the treatment you need for depression after miscarriage.
Who is at Risk?
People who have previously suffered from major depression are more likely to find that their grief after a miscarriage escalates to depression. Other traumatic events that may be occurring at the same time can similarly increase the likelihood your symptoms will lead to depression. For instance, marital troubles or another loss can make it more likely you become overwhelmed and are unable to cope with the grief.
Also at risk are those who have no other children. A further risk group would be women who have fertility troubles and their future prospects for childbirth are low. In particular, women who received fertility treatment or struggled for a long period of time to become pregnant may be more likely to experience depression after miscarriage.
Treatment After a Miscarriage
Some counsellors specialise in grief counselling and can help you get through the feelings you experience after a miscarriage. Even where you do not experience clinical depression, your doctor can probably recommend a counsellor to help you get through this difficult time. For those who are diagnosed with clinical depression, a doctor will help find the best treatment or combination of treatments to ease the symptoms. This may include medications such as antidepressants coupled with counselling support. You should not suffer in silence after a miscarriage and deserve to get the support you need to recover.
You might also like...