Prescription Drugs and Suicide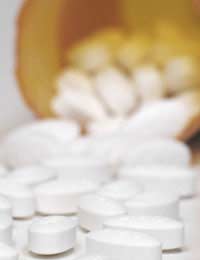 Although there are many different methods of a person taking their own life, suicide by overdose remains in the most common few. To overdose on tablets other than prescription drugs is still very possible but most people do seem to opt for those available on prescription.
Causes For Overdose
The list for this issue might be described as endless as each person will have their own rationale behind their decision to take their life, with some people understanding the roots of the problem whilst others will never be able to comprehend how this is achievable.
One of the most common causes is depression which can develop for many different reasons including an inability in being able to cope, being overcome with negative thoughts or anxiety, or some even believing that those around them would benefit from their life not existing any longer.
Mental health experts have spent years trying to get to the roots of depression and there are several possible treatments that can help the individual overcome the illness which may include the use of medications, specialised treatments, therapies and often a combination of some or all of these. All of these options have been researched and implemented as methods of overcoming depression and anxiety and also to help in suicide prevention.
Why Prescription Drugs?
The spectrum of prescription drugs that can cause long term damage or be fatal if taken incorrectly is vast with painkillers often being the most commonly seen drug used in suicide attempts.These can work on the body in lots of ways and may not always be fatal but can cause severe long term problems for the suicidal person if they are not successful.
Painkillers are often seen as the best option as people often and sometimes mistakenly believe that they simply cause the person to drift off to sleep and that is all they will know about it. This is not always the case and as mentioned, may cause them problems for the rest of their life if not successful.
Accidental Overdose
When a person is not thinking rationally or is actually experiencing a lot of pain, it is possible that can take an accidental overdose that may be misinterpreted as a suicide attempt.
Taking any drugs in any way other than how it has been prescribed and directed has the potential to cause damage, sometimes unknown to the person. People often falsely believe that they have built up a tolerance to certain drugs and take more than has been prescribed. Perhaps they take a cocktail of drugs to try and overcome their individual problem it might even be that they have mixed the correctly prescribed drugs with alcohol which can be lethal.
Whatever the reason for someone's actual suicide, attempted suicide or accidental overdose, prescription drug are dangerous if not taken correctly which is why they are only available on prescription in the first instance.
If you know anyone, or are thinking yourself that you are not safe to manage your prescription drugs or even those available over-the-counter, please do tell someone immediately as you may not be thinking clearly, or might be able to save another person's life who may otherwise overcome the problem with professional help and input.
As adults we are supposed to be responsible for our own health and be able to take medications safely. The long term side-effects of taking too many medications incorrectly can be catastrophic for health in the event of drug abuse or failed suicide attempts.
You might also like...