Complementary Therapies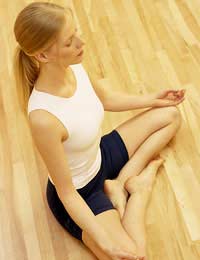 Complementary therapies span a broad range of treatments for depression. Some are well known and endorsed by physicians while others are not widely supported and known by the traditional medical community. Complementary therapies are precisely what their name suggests-a 'complement' to scientifically based medicine. They are meant to be an addition to the medicines that have been confirmed effective by research. This isn't to say that some people particularly those with milder forms of depression, won't be able to treat depression solely through complementary, or alternative methods. It just means that you should first seek diagnosis and treatment recommendations from a primary care doctor before self-treating with complementary therapies.
Yoga
Yoga entails a series of physical exercises for achieving body and mind control. Various studies have suggested that yoga is an excellent option for reducing the stress and worry that may be part of depression but it has not yet been shown to work as a replacement for prescription antidepressant therapy. It is generally considered safe and appropriate for most fitness levels.
Acupuncture
Acupuncture is based on ancient techniques and is used to treat medical illnesses such as depression. The treatments are specifically geared to address the symptoms of each individual and they involve extremely fine needles that are superficially placed into the skin and left for a short period of time. It is believed that the needles stimulate a person's nerves and trigger the release of the body's natural painkillers. Research shows that acupuncture may help depression in terms of non-specific physical aches and pains as well as affecting various systems in the body and reducing anxiety.
Colour Therapy
One theory is that colours affect an individual's mood and the use of certain colours can enhance well-being and reduce the symptoms of depression. There are no studies confirming that colour therapy does effectively treat depression but many users report significant benefits, so it certainly is a complementary therapy you may wish to try. It is thought that when depression, occurs, the balance of the body is altered; colour therapy is believed to balance energies in the body, thereby providing relief for depression symptoms. Each colour is meant to contribute to this balance and the use of specific colours alone or combined is meant to correct the body's balance. There are various colour therapy products available such as lenses to cover indoor lights. If you suffer from anxiety, blue is thought to provide calming relief. If you are sad, yellow is meant to stimulate happiness. For fatigue, red is thought to increase energy.
Relaxation Therapies
Relaxation therapies comprise an enormous range of treatments such as:
Deep breathing
Meditation
Positive visualization
Biofeedback
They aim to address the emotional and mental causes of depression and have been shown to help ease stress and anxiety, as well as reduce panic attacks and phobias. They are thought to work particularly well when combined with traditional antidepressant therapy.
Massage
Massage can be an excellent therapy for treating any tension related to your depression. It is very relaxing and may be improved by the use of aromatherapy oils, which allows you to ease tense muscles and alleviate the emotional and mental anxiety you may experience as a symptom of depression. Many people find that a one-hour massage once a week is a welcome relief from a stressful day and can help you to rejuvenate and refresh your body and mind.
Consider complementary therapies as a beneficial part of your depression management plan. They don't tend to carry the same risks and side effects of prescription treatment and can be a pleasant and enjoyable addition to your routine, whether it includes medication or not. You might find that selecting the right complementary therapy is a case of trial-and-error or you may wish to follow family and friend recommendations for specific practitioners. Hopefully, complementary therapies can provide you with the relief you are seeking for your depression.
You might also like...