Psychoanalytical and Psychodynamic Therapies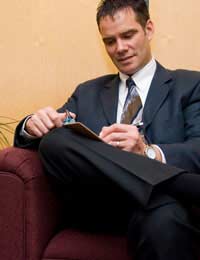 Psychodynamic therapy is a broad term that represents therapies with an analytical focus. It operates with the intention of bringing a person's deep emotions and feelings to the surface allowing them to observe, analyze and understand them. This form of therapy focuses on parts of your personality and although it can treat many mental health conditions, it can be helpful for treating depression related to personality aspects or interpersonal relationships, both past and present.
How Long Will Therapy Last?
The length of therapy varies a great deal and may be as often as three times per week for an hour each session, with therapy occurring over many weeks or months. Many clients may find they require therapy for years.
What Does The Therapist Do?
During psychodynamic therapy, a therapist's personality is essentially kept out of the relationship and the therapist acts as a blank canvas upon which the client reflects personal feelings and experiences. The therapist then processes the emotions and content to slowly help the clients deal with the emotional burdens. As such, the therapist facilitates a clearer understanding of a client's problems and adds clarity and support to the issues.
How Effective Is It For Depression?
Psychotherapy is sometimes an initial treatment for depression and can help you to understand some of the issues that may be triggering your depression. These may include:
Feelings, experiences and actions that contribute to depression
Major life events, such as divorce, job loss or bereavement
Poor self-esteem
Social isolation
Psychodynamic psychotherapy seeks out sources of depression that may include conflicts with individuals in your life or significant close relationships. These conflicts may relate to parents, other family members, friends or authority figures. Psychodynamic therapy also aims to identify any denial or defensive means you may use to approach your relationships with other people. Many people deny negative patterns of thinking and behaviours but these often come through in their interactions with others; psychodynamic therapy brings these to the surface of your awareness so that you can address them. It provides meaning to often deep rooted conflicts.
How Do I Know If My Depression Can Be Helped?
Psychodynamic therapy usually works best for people who are open to learning more about themselves and are willing to look deep inside to dig up often painful sources of their depression. Psychodynamic therapy may occur in various formats such as:
Individual
Group
Family
Marital
It is, however, more often than not performed on a one-to-one basis. If psychodynamic therapy seems appropriate for you, it is worth looking into locally and trying for at least a few sessions. You will need to be very open and honest with your therapist, which can be difficult, but the rewards will hopefully make it worth your while. It can be hard to talk about your feelings but doing so can bring about greater understanding and healing.
As with any form of therapy, there is no guarantee that psychodynamic therapy will work for you. The strength, compassion and experience of the therapist is important but just as important is your willingness to bring those 'hidden' aspects of yourself 'to the table,' so to speak. Also be sure to remember that psychological factors are sometimes only one part of what causes depression and you may still require antidepressant or other medication therapy to address any chemical imbalances in your brain.
You might also like...