How Can Your Reduce The Risk of Depression?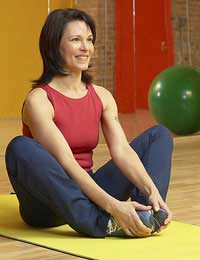 If you have never suffered from depression you may still be dealing with milder symptoms of anxiety, sadness and stress once in a while. Although it's normal to have ups and downs, it's still important to look after yourself and ensure you cope with these feelings, so that they don't persist and intensify.
Make Time for Fun Activities
Studies have shown that stress leaves people more susceptible to illnesses, including depression, so if you are having a difficult day, try to end it with something fun and light. Consider visiting with friends, watching a movie, going out for dinner or perhaps having a relaxing bath.
Exercise and a Healthy Diet
Exercise increases the body's production of 'endorphins,' which are chemicals that make you feel good. It can also help you to reach and maintain a healthy weight and increase your self-esteem and feelings of well-being. A healthy diet can help reduce depression risk as well. Eating a wide variety of foods regularly, with an emphasis on fresh whole foods can keep your blood sugar and moods more stable.
Alcohol and Substance Abuse
Alcohol and the use of other drugs can trigger depression so it's wise to limit yourself to a glass or two of wine on occasion. Some people do use alcohol to numb stressful situations and anxiety but these feelings seldom disappear and instead, are likely to get worse, leading to depression. If you are drinking a great deal and there are underlying problems, it's best to speak with a doctor who can give you some options for treatment and counselling.
Self Esteem and Stress
Studies show that people who generally feel poorly about themselves and are overwhelmed with fatigue are more susceptible to depression. Pessimism and a negative view of the world are likely to lead a person down a path to negative thinking, unhealthy relations with others and destructive behaviours, which only decrease self-esteem further. Cognitive behavioural therapies and any alternative methods of stress relief, such as massage, can help you to address stress, feel good about yourself and approach the world with a more optimistic view.
Chronic Illness
Chronic illnesses such as heart disease, cancer and diabetes can precede depression so if you are coping on a daily basis with an illness, it's important to ensure you have sufficient emotional support, particularly if you are dealing with chronic pain and disability. If you are struggling physically and isolated based on physical limitations, these can both lead to loneliness and a depressed state. Try to maintain a consistent source of listening support and if you are limited in your mobility, ask friends and family to visit you whenever possible.
Spirituality
Spirituality doesn't imply that you need to embrace religion or even believe in a God. It's about living life with meaning and purpose. It's more about maintaining psychological health and connections with how you feel and relate to others. If religion helps you to feel good, then that's certainly something worth focusing on. For others, however, you may find non-religious ways to nurture your spiritual side.
Look After Yourself
It simply can't be emphasized enough: look after yourself. If you're feeling run down and tired, then rest. It's a matter of prioritizing and making time for yourself as needed. If you're only sleeping a few hours a night with the thought that you can get more work done, you are draining yourself. Eventually, you're likely to lose more work time when you crash and more so if it triggers a depression. Sensing when something is 'off' in your physical, mental or emotional health and then addressing this right away can reduce the chances that you will become depressed. The physical, emotional and mental strain of a depressive illness means that it's worth taking time to care for yourself now to reduce your risk of depression.
You might also like...