Are People With Depression More Likely To Develop Alzheimer's Disease?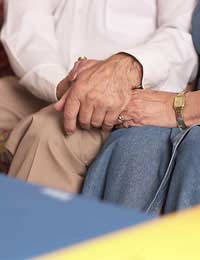 There is currently substantial evidence that those who suffer with depression may be more at risk of developing further mental health illnesses, or have a predisposition to other illness.
Recent news reports have identified that some clinical studies may have indicated that there is a possible link between depression and the development of Alzheimer's disease.
What Is Alzheimer's Disease?
Alzheimer's disease is a very serious and upsetting disease caused by a brain disorder. It can affect anyone but is more commonly seen in those of older years and gets progressively worse as time passes.It significantly affects life and may affect social behaviour, interests, coping mechanisms, thought processes and memory capability.
The actual root cause of the illness is not exactly known by scientist but it is known that over time the nerve processes in the brain are decreased or disrupted which leads to symptoms.As time progresses dementia worsens often leaving the person unable to care for themselves independently or safely.
It is not only the person suffering from the disease who is affected as the friends and relatives of the person find it increasingly difficult to care for the person and find it upsetting observing their decline in health.
How Might Depression Lead To Alzheimer's?
It is thought from evidence shown so far that the link may be related to changes in the brain that have been caused as a result of as a cause for depression leading to damage to the areas associated with the development of Alzheimer's.
Researchers have also suggested that if no such link is proved definitely in the future then it may be possible to suggest that both depression and Alzheimer's disease are caused from a similar pathology that is common to both.It was also suggested that it may simply be that certain personality characteristics may be common to both groups of people and this may be the only link.
What Happens Next?
The studies that have already been carried out, examined and evaluated have shown promising evidence that there may be a link between the two illnesses. This allows researchers to continue more details and exact investigations to determine how precisely the two may be linked, why and how this can help aid research and treatment development in the future.
More promising than that is the possibility of finding out whether it is possible to determine who is likely to develop Alzheimer's in those who show early signs of depression and if that is possible, how these people might be screened to test for early symptoms and therefore adequate diagnosis and early intervention to avoid the development of extensive dementia development.
If no such link is determined, it might be possible to rule out the chance of any link once and for all which may also be useful for scientists.Whatever evidence research provides will be useful whether it confirms, rules out or leads to more extensive and detailed testing of each illness.
Researched has suggested that there may be a link between the development of Alzheimer's disease and depression though results and findings are as yet unsubstantial. There may be several possible ways in which the two illnesses are linked and further research is needed to either determine or rule out each of these possibilities.
You might also like...