How to Help and Support Your Loved One When They Are Depressed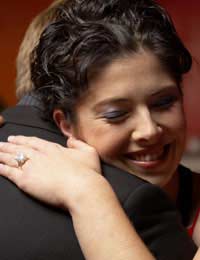 Depression in itself is devastating for those who experience it directly but its effects are also far-reaching. Those who are close to a depressed person may struggle with the helplessness and challenge of 'being there' for their friend or family member. It can be a confusing and frightening time for both of you but your help and support can make an enormous difference in the process of your loved one obtaining appropriate diagnosis and maintaining a treatment plan.
Help Them Recognise Their Problem
Acknowledging depression can be frightening and may require courage. By speaking with a depressed person about their symptoms and feelings, you can help them to understand that their depression requires professional help. Try to help your friend or family member understand that even though they are suffering from a lot of emotional pain, there is help available and they are not alone. If you share some reading material on depression, this can also help your loved one to realize that these symptoms are characteristic of depression and this can help them to realize that they are depressed and require professional support.
Set Limits for Yourself
It's vital that you are able to set limits, especially if you feel exhausted or confused about how to handle your depressed loved one's emotions and experiences. You need to look after yourself and be sure that you avoid burnout while still offering support to the depressed person. It's important that you stay supportive and involved, but this must be alongside professional help. If you become overly involved, you run the risk of your depressed friend or family member becoming too dependent on you. Remember that your role is to offer support, not treat the depression.
Keeping Your Loved One on Track
Medications and therapy can be challenging and overwhelming for a depressed person and remembering them can be difficult. You can be of great aid by keeping your loved one on track and reminding him or her about medication schedules and therapist appointments. Reassure your loved one that these appointments and treatments are important and can take time before results are experienced.
Be There but Don't Try To Be a Therapist
You may know the depressed person quite well and the tendency in 'being there' may be to try solving the situation and over-analyzing the 'why' aspect of your loved one's depression. It can be painful to see someone you care for dealing with depression, and harder still sometimes to abstain from 'fixing' it. You should listen and provide emotional support but don't try to be a substitute therapist and offer up an analysis or techniques.
Don't Disappear When Treatment Begins
When the depressed person does begin medication or therapy, don't abandon them and assume they will be fine.
Medications and therapy can take weeks to months before results are evident and your friend or family member will still require emotional support. You may try to back away and assume the therapist can take over. The depressed person may also be frustrated when immediate results aren't taking effect and your support during this time is still important.
Provide Model Behaviours
When providing support to a depressed individual, it can be helpful if you provide model behaviours. You have the ability to influence your depressed friend of family member and one of the best ways to do this is to be healthy yourself. By showing the depressed person healthy ways of living, you can be a supportive role model.
This is a difficult time for your depressed loved one and there may be many more bumps in the road ahead. By providing support and offering hope, your loved one will be better equipped to handle the challenges that lie ahead during treatment and management of the condition.
You might also like...