Finding Help for Someone You Think is Suffering From Depression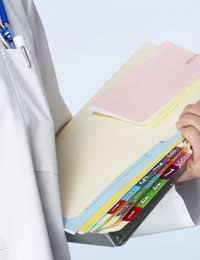 There are many forms of help available for treating depression and it can be overwhelming to choose the most effective one. Because depression is so complex no one therapy is ideal for everyone and in fact, many people find that a combination of therapies will provide the most effective results. Your care and effort in finding help for a friend or family member who suffers from depression should be applauded. With some careful investigation into depression treatments, you will be equipped to tentatively offer resources to your loved one. It can be frightening for a depressed person to admit that he or she needs help and even more difficult to take the first steps to obtain treatment. By approaching a loved one with a tentative plan, you still leave them to make the ultimate decision but you ease the burden somewhat by providing warmth and guidance.
Doctor: Primary Point Of Care
The majority of people who seek help for depression first visit their general medical doctor. Many people will obtain effective treatment solely through their general doctor, but it should be noted that a medical doctor is not a specialist in handling depression. The type of doctor who is qualified and experienced in handling depression is a psychiatrist. A psychiatrist differs from a psychologist in that he or she is a medical doctor who can prescribe drugs alongside providing specialist knowledge in mental health disorders such as depression. This doesn't mean that your friend or family member should avoid seeing his or her primary healthcare provider. Your loved one may have to see a primary doctor simply to obtain an insurance approved referral to a psychiatrist or other specialist. A primary doctor is important as he or she will screen a patient for any physical causes that may be triggering depression as well as ruling out any major conditions that mimic the symptoms of depression. A doctor can determine if your loved one is healthy and if so, can then provide a recommendation for a specialist such as a psychiatrist.
Self-Help Education
Your friend or family member may not be ready to seek treatment and if this is the case, providing him or her with some reading materials on depression can be helpful. Don't push the materials on him or her, but be prepared to just leave them there for reading. Try to avoid pressuring your loved one to read and you may find that he or she waits for you to leave until going through the material. You can visit local counselling agencies, your doctor or a hospital to obtain brochures and leaflets providing information on treatments for depression. You may also find information online, which you can then print. Do, however, be sure to check the website credibility and also ensure that the material is not dated.
Psychotherapy and Counselling
Psychotherapy and counselling focus on the emotional and mental causes of depression and they utilize a range of different approaches, most of which tend to be solution oriented. Many healthcare professionals encourage a multi faceted approach to depression treatment and management. This usually involves a combination of drugs and psychotherapy although for some, psychotherapy and counselling are sufficient to manage depression alone. You can check in your local phone book or speak to a medical professional for more information and recommendations on therapists who specialize in treating depression. Try making a short list of options for your friend or family member. This will allow him or her to make the final decision without having to weed through all the information and choices available.
There are many resources that can provide your friend or family member with appropriate and effective help for depression. By beginning the search for depression treatment now, you can help your loved one find the right treatment so that he or she can get back to enjoying life again.
You might also like...