Encouraging Sufferers of Depression to Participate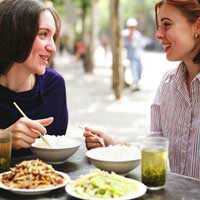 Many people who are depressed experience a variety of symptoms that prevent normal functioning and participation in activities. Some of these symptoms include:
Isolation
Loneliness
Sadness
Withdrawal
Fatigue
As a support person for someone who is depressed there are helpful ways you can encourage sufferers of depression to participate in activities. Some of the different activities you may wish to mention include:
Walks or hikes on a favourite trail
Shopping
Hobby groups
Dining out
Why Encourage At All?
Studies have shown that the withdrawal many people experience during a depressive illness can not only make it difficult for them to participate in activities, but can exacerbate the feelings of loneliness and isolation. Sitting inside and experiencing these intense feelings can push a depressed person deeper into their illness and can prolong recovery.
Invite But Don't Impose
Forcing a friend to join you for activities is more likely to increase withdrawal and will only be counterproductive. Gently invite him or her to participate and focus on the benefits of the activity. Be consistent and keep inviting even if he or she refuses repeatedly. Also be sure to coax by using a compassionate and warm manner. Always remember that even if the depressed person chooses not to accept the invitation, he or she will likely still appreciate your thought and care for their well-being.
Offering a Gentle Nudge
Imposing is obviously something to avoid, but a gentle nudge may be necessary. Being too passive can leave the depressed person thinking, 'Oh, it's no big deal if I don't go.' Try letting your friend know how much you will also enjoy the activity and how much you value their company. Your friend may be more likely to participate in activities if he or she knows that you appreciate the time together. Sometimes, people who are depressed don't participate because they don't feel they deserve to reap enjoyment from life but your enjoyment may be what brings the depressed person out of his or her shell.
Regular Phone Calls
If the depressed person isn't responding to your encouragement to participate, don't give up, despite your own personal frustrations. Your friend still needs to know that you are 'there' and that even if he or she doesn't want to participate now, or next month, it is reassuring to know that your offer is not conditional or time-limited. Call the depressed person regularly and be open to talking about different things, whether that involves feelings around the depression or otherwise. At the same time, try to continually offer up suggestions for activities. Even offering to just stop by for tea is a helpful, non-intimidating and social way for your friend to benefit from interaction.
Lead by Example: Offer To Participate
Encouraging a depressed person to participate in an activity might leave your friend or family member feeling fearful or nervous at the prospect of leaving the home without support. Offer to join the depressed person and make the activity a mutually enjoyable one. Try not to give the impression that you feel pity and are just offering because the person is depressed; it's important that you choose an activity that you will genuinely enjoy as well, so that both of you can look forward to participating.
Enjoying an activity with the depressed person is also helpful in that it allows you to spend time without just focusing on the depression aspects. Although your listening support and willingness to discuss the painful aspects of depression are important, it can be disheartening and exhausting to speak about the depression all of the time. By partaking in fun activities together, you can both be reminded of the 'lighter' times and this can help you both feel hope that the depression will be conquered.
Help By Handling the Barriers
If your friend has obligations such as children or perhaps various appointments and chores, try to help him or her to free up a time slot so that you can both enjoy activities together. Try to arrange for another friend to watch the kids while you and your depressed friend go out for the afternoon. Your friend can relax and focus more on enjoying the activity rather than worrying about how the kids are faring.
With a bit of planning and some gentle encouragement, you can support a depressed friend or family member by encouraging participation in activities. Together you will both be reminded of the enjoyable times you had together. You will also perhaps get a glimpse of a future where your friend is successfully managing depression and is enjoying activities on a regular basis.
You might also like...