Monoamine Oxidase Inhibitors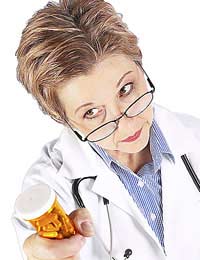 Monoamine oxidase inhibitors (MAOIs) are an older class of antidepressants that are commonly used if other antidepressant classes do not provide effective results. This is due to the higher number of side effects and potential adverse reactions particularly from the consumption of certain foods. They are, however, thought to work as well as other antidepressants.
How Do MAOIs Help Depression?
One belief is that depression is due, in part, to an imbalance of brain chemicals. Chemicals such as noradrenalin and serotonin are involved in functions such as regulating mood, sleep and appetite. When a person experiences depression, these chemicals, or monoamines, are decreased and they are broken down by an enzyme known as monoamine oxidase. MAOIs work by preventing monoamine oxidase from breaking down monoamines, which then causes the brain to be flooded with these chemicals. Once the monoamines are increased, the symptoms of depression are then thought to be reduced.
Which Ones Are Used?
MAOIs comprise several older drugs that are not selective in action. These are:
Isocarboxazid
Phenelzine
Tranylcypromine
They are all similar in their mechanism of action and have similar side effects, but tranylcypromine is somewhat more stimulatory and is more likely to cause withdrawal symptoms when halted. Therefore, you are more likely to initially receive a prescription for isocarboxazid or phenelzine than tranylcypromine.
Another drug called moclobemide is considered to be a more selective MAOI. It is also known as a reversible inhibitor of monoamine oxidase type A (RIMA) and functions somewhat differently than the older MAOIs listed above. Moclobemide is overall believed to be a safer drug in that it doesn't have the same dietary restrictions as the older MAOIs and also isn't as likely to pose the same drug interaction risks.
What Are The Side Effects?
MAOIs can cause a number of side effects and your doctor will discuss the most common ones with you as well as indicate serious ones to report should they occur. Some of the common side effects include:
Blurred vision
Sexual dysfunction
Urinary retention
Drowsiness
Weight gain
Constipation
Tremors
Dry mouth
Dizziness
Other side effects are uncommon and you should check with your doctor if you experience any of the following:
Severe dizziness
Yellow eyes
Skin rash
Dark urine
Swelling in extremities
Fever
MAOI Withdrawal And Overdose
Compared to other antidepressants, MAOIs are potentially more dangerous when consumed in excess. Symptoms of MAOI overdose are:
Extreme anxiety
Clammy skin
Irregular pulse
Hallucinations
Difficulty breathing
The general advice for any antidepressant is not to stop abruptly and this holds true for MAOIs. Your doctor will probably want you to slowly reduce and taper your dosage to prevent uncomfortable withdrawal effects. Even after you finish a course of MAOIs, you should still follow the dietary restrictions for several weeks until the drug has completely cleared from your body.
Are There Any Special Cautions?
An important caution to note when taking an MAOI is that you must avoid ingesting foods that have a high level of tyramine, which is an amino acid. If this occurs, blood pressure can reach dangerous levels. Foods that you should avoid when taking an MAOI are aged cheeses, yeasts and alcoholic beverages.
Some medications such as common flu or cough preparations should be avoided if you are taking an MAOI. Your doctor or pharmacist will alert you to special precautions and you must follow medication directions according to the package contents. When taken as directed, you can minimize any side effects from MAOIs and can better reap the benefits of this prescription medication. It may take several weeks before your moods are noticeably improved but hopefully, your antidepressant therapy with an MAOI will ease your depression symptoms.
You might also like...