SSRI Related Antidepressants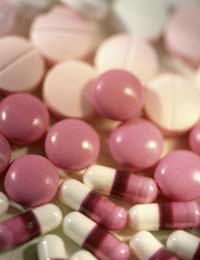 Serotonin reuptake inhibitors (SSRIs) are an antidepressant class that affect the release of serotonin. SSRI related antidepressants also influence this brain chemical but do so alongside other mechanisms of action. SSRI related antidepressants include serotonin noradrenalin reuptake inhibitors (SNRIs) and other antidepressants that are more closely aligned with this class.
How Do SNRIs Help Depression?
SNRIs are an antidepressant class used to treat depression and some other mood disorders. They influence brain chemicals known as neurotransmitters. These neurotransmitters are serotonin and noradrenalin both of which are known to affect mood.
What Are The Side Effects?
Some of the side effects that you may experience with an SNRI are nausea, excessive sweating and problems sleeping. The effects are, in fact, common to many antidepressant drugs. Other side effects include:
Sexual problems
Shaking or tremors
Dry mouth
Constipation
Vomiting
Headache
Anxiety
SNRIs can also affect blood pressure and your doctor may choose to monitor your blood pressure if it is already elevated. In addition, SNRIs may affect cholesterol so regular testing may be required. As you continue using the drug, side effects often will subside and if they become too bothersome, you can speak with your doctor, who may reduce your dosage, recommend another drug or provide suggestions on how to make the side effects more tolerable.
Can Withdrawal Occur?
Similar to many antidepressants, it is not recommended that you abruptly stop taking the medication as withdrawal symptoms may occur. Your doctor will advise you regarding a slow and tapered dosage, which should help to subdue any uncomfortable symptoms.
Serotonin Syndrome
An uncommon but dangerous side effect of SNRIs is known as serotonin syndrome. This occurs as a result of excessively high levels of serotonin in the brain. It may also occur if a monoamine oxidase inhibitor (MAOI) is taken alongside an SNRI, or if any supplement affecting serotonin levels is taken regularly. Symptoms suggesting serotonin syndrome are:
Nausea
Fever
Confusion
Heart palpitations
Hallucinations
If you do experience symptoms of serotonin syndrome, it is crucial that you obtain medical treatment promptly.
What SNRI Will My Doctor Prescribe?
Venlafaxine is one of the more commonly prescribed SNRIs. It mostly affects serotonin and noradrenalin but does also alter dopamine as well. Desipramine is more often considered a tricyclic antidepressant (TCA) but as it does affect serotonin and noradrenalin, it is sometimes categorized as an SNRI. Other SNRIs that may be used are:
Nefazodone
Duloxetine
Desipramine
Milnacipran
How Do SNRIs Compare To SSRIs?
SNRIs are newer than SSRIs and are considered similarly effective in treating depression. Some studies have actually suggested that SNRIs are better tolerated and more successful for treating depression but your doctor will decide which specific antidepressant is appropriate for you.
Other SSRI Related Antidepressants
There are other antidepressants that are similar to SSRIs in their mechanism of action. One such antidepressant is bupropion, which influences dopamine and noradrenalin. Bupropion is considered as effective as SSRIs in treating depression and appears to have fewer side effects. The most common side effects of this drug are dry mouth, headaches and insomnia. Your doctor may prescribe an SSRI or a related antidepressant such as an SNRI to treat your depressive illness. These newer antidepressants do tend to have milder side effects and can be highly effective in relieving the symptoms of your depression. Hopefully, your treatment with an SSRI related antidepressant will improve your mood and leave you more hopeful and optimistic for a future without depression.
You might also like...