Electroconvulsive Therapy (ECT)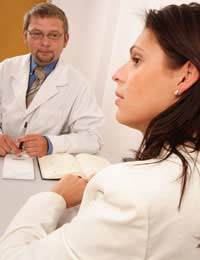 Electroconvulsive therapy (ECT) is a treatment for severe and debilitating mental conditions which may include depression. During the procedure, an electric stimulus is briefly applied to the individual's head to induce a seizure. This is thought to treat the mental illness although the precise mechanism by which it works is still unknown. ECT has been used for approximately half a century but there is still a great deal of controversy surrounding its use.
How Does ECT Work?
It is thought that various electrochemical functions in the brain become dysfunctional during mental illnesses such as depression. ECT is believed to treat these changes, thereby reducing the symptoms associated with the mental illness.
What Happens During ECT?
During an ECT treatment course, 5 to 12 individual treatments are generally given. These may occur over different time patterns, but are commonly given as 3 treatments per week for a month. The patient receives anaesthesia as well as a muscle relaxant and the patient's brain is stimulated via the placement of electrodes at specific locations on the head. Several electric impulses are transmitted and these trigger a brain seizure for approximately one minute. The patient does not feel the actual convulsions nor does he or she feel pain.
How Effective Is ECT For Treating Depression?
There have been many studies gauging the effectiveness of ECT for depression treatment. It would appear that ECT is faster acting than prescription treatments for depression. Severe depression involving delusions have been demonstrated to benefit well from ECT therapy. Other studies have suggested that ECT is comparable to or better than depression medications but evidence is still inconclusive. One study found, however, that relapse rates following ECT were higher if antidepressants were not taken during this time. It would appear that ECT is indicated best for individuals who have initially not responded favourably to several trials of antidepressants.
Risks And Side Effects
Even when ECT is effective in treating the mental health disorder, patients often continue to be affected by various side effects such as memory problems. Immediate effects following ECT include:
Nausea
Headaches
Muscle pains
Confusion
Over the course of several ECT treatments, some patients will have difficulty recalling newly learned facts, but this tends to ease after ECT ends. Other individuals experience memory loss in the weeks to months following ECT treatment with a smaller number experiencing them for years afterwards. Some patients actually find that memory improves because ECT treats the common depressive symptoms such as poor concentration and memory.
Making The Decision
ECT is clearly one of the more controversial therapies used to treat depression and other mental health disorders. Its history, reputation in the media and legal issues surrounding it have all played a part in the controversy. Overall, it would appear that ECT is effective in treating a tight range of mental health disorders, including severe depression. The possibility of significant side effects, however, means that other therapies should be considered first and administration of ECT must not be taken lightly. A medical judgment to treat depression with ECT should be considered carefully and in detail, with an appropriate weighing of any benefits or harm to the patient. For those who do find relief through ECT therapy, it will likely be viewed as a positive addition to treatment options for depression.
You might also like...