PMS and Depression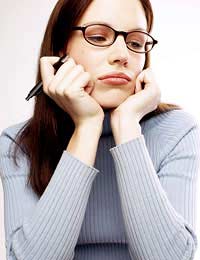 Premenstrual syndrome (PMS) is a complicated disorder that can trigger depression or be influenced by symptoms of depression. PMS involves a range of uncomfortable symptoms that occur during the luteal phase of the menstrual cycle. The luteal phase is the latter half of the cycle which commences following ovulation, as oestrogen levels begin to fall. PMS symptoms can last for just a few days or the entire period of approximately two weeks after ovulation.
In its mildest form, PMS symptoms can leave you feeling:
Bloated or cramped
Irritable
Experiencing increased cravings and hunger
Struggling to concentrate
Crying
Angry
Tired from disturbed sleep patterns
Diagnosing PMS and Depression
You will likely receive a diagnosis of PMS if any of the symptoms above are consistently present each month following ovulation. Depression can be present alongside PMS or as a specific symptom of PMS. If you are experiencing symptoms of depression regularly throughout the month, your doctor will likely diagnose you with clinical depression. If your depression is only present during the luteal phase each month, you are more likely to receive a diagnosis of PMS. Symptoms of depression that occur throughout the month and are not related to the menstrual cycle are not PMS. People who are clinically depressed may still, however, experience other PMS symptoms such as bloating and irritability.
Premenstrual Dysphoric Disorder (PMDD)
When severe depression occurs during the luteal phase and alongside symptoms such as anxiety, overeating, exhaustion and mood disorder, PMDD may be diagnosed. PMDD is more severe than PMS and represents symptoms that are so detrimental, a woman's relationships, work and day-to-day activities are intensely affected. If you have been diagnosed with PMDD, you may find that you have difficulty concentrating and you also feel a severe loss of control over your life. At the more extreme end of PMDD, you may be experiencing suicidal thoughts.
Treatment
There are both medication based and lifestyle treatments that can help PMS and depression. Some women find that lifestyle alterations can make a big difference in reducing symptoms. Consistent exercise each week can help to improve mood and maintain fitness. Simply consuming less salt can also reduce bloating and puffiness that may occur as part of your PMS.
Other women find that a healthy diet of complex carbohydrates, essential fats and lean protein makes an enormous difference as it keeps blood sugar levels stable, which then stabilizes their mood as well. Substances such as caffeine, alcohol and recreational drugs should be avoided or minimized as these can cause withdrawal and exacerbate depression and PMS symptoms such as irritability and anger. In addition, many women employ complementary techniques such as massage or biofeedback to help handle stress and anxiety. Obtaining support from friends, family or a qualified counsellor may be helpful so that you can talk about your worries and ease tension.
Medication based treatment may occur daily for depression and you can use lifestyle adjustments to address PMS that occurs each month. If your depression is only occurring as a symptom of PMS or PMDD, then your doctor may prescribe medication to be taken only during the luteal phase of your menstrual cycle.
There are clearly many treatment options available for PMS and depression. If you are struggling with feelings of sadness, whether they are a symptom of your PMS or occurring throughout the month, talk to your doctor for accurate diagnosis. The sooner you confirm a diagnosis, the sooner you can obtain treatment and get back to enjoying your life.
You might also like...