Postnatal Depression (PND)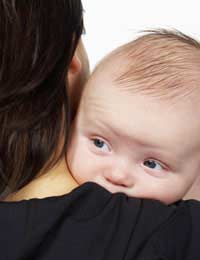 Postnatal depression (PND) is a depressive condition that follows the birth of a baby usually in the first month after childbirth. It is quite common, with approximately ten percent of new mothers experiencing PND. Many women experience a saddened or generally low mood after giving birth and this is often mild. In fact, the term 'baby blues' is used to denote the low mood that occurs after childbirth. PND is different, however, as it is more intense and lasts longer. It is also not the same as ordinary depression and in its most severe form, known as postnatal psychosis; it can be extremely distressing and dangerous.
What Causes PND?
The exact causes of PND are not known and researchers and healthcare practitioners are still debating and attempting to pinpoint the causes of PND. Some experts suggest that hormones cause PND while others believe it is due to negative mental and societal factors that may even be completely unrelated to the childbirth.
Is It Just The 'Baby Blues?'
The baby blues are very common and estimates are that as many as half of all mothers experience the baby blues symptoms of crying, gloominess, and a minor low mood. Baby blues are considered normal, and likely occur from hormonal changes; they don't usually require any special treatment. If your moods are more severe and last longer than a couple of weeks, however, you should see your doctor to check for PND.
Postnatal Psychosis
Postnatal psychosis is rare and is more likely to occur if you have a previous history of mental illness or if another member of your family has suffered from it. Symptoms do vary but may include:
Hearing voices
Delusional thoughts
Confusion
Depression
Extreme excitability
It is vital that mothers who may be suffering from symptoms of postnatal psychosis seek treatment immediately. This will allow for prompt diagnosis and treatment, which will likely include psychiatric help.
What Are The Symptoms of PND?
It can be very overwhelming to care for your new baby and you may find you are not as happy and excited as you imagined you would be in your new role as a mother. You may be feeling exhaustion, guilt, and an overall sense of discontentment. Some mothers also experience fear and low self confidence as they think other mothers are dealing with motherhood better.Other symptoms common to PND are:
Sleep disturbances
Anxiety
Irritability
Worthlessness
Hopelessness
Fatigue
Appetite changes
What Can I Do If I Have PND?
PND is treatable and is treated in much the same way as typical depression. The first and most important step to take is to see your primary care doctor. Be sure to explain your symptoms in detail, both psychological and physical ones. Your doctor will probably examine you and may order tests to ensure that you don't have any other conditions with similar symptoms. He or she will then likely recommend various treatments, which may include:
Directing you to a postnatal support group
Referring you to psychotherapy or counselling
Medication therapy
Mentioning alternative therapies such as aromatherapy
Unfortunately, many mothers worry that by seeking help for depression, they will lose their child. They may also worry that their parenting skills are poor and that by speaking to their doctor about their depression, they will have their child taken from them. This, however, is not the case. By addressing your PND, you will be better equipped to handle the challenges of being a mother. Some of the things you can do at home to manage your PMD are:
Get plenty of sleep: If you can, try to ask a partner, family member or friend to watch baby so that you can get some much needed rest.
Eat a healthy and balanced diet: Not only will this aid in keeping up energy levels, but certain vitamin and mineral deficiencies have been linked to depression and anxiety.
Talk to someone you trust about your feelings: Keeping things bottled up inside can leave you feeling more isolated and alone with your PND.
Try to reduce other commitments and chores: While increasing social 'mummy' time with friends. Your needs are important and you should regularly try to do an activity that you enjoy.
Remember that the baby blues are normal and common. If your feelings of sadness are particularly intense and persistent, however, combined with a struggle to function on a day-to-day basis, you should see your doctor to check for PND. By treating your PND now and preventing symptoms from worsening, you can enjoy your time as a new mother.
You might also like...