Depression and Sexual Assault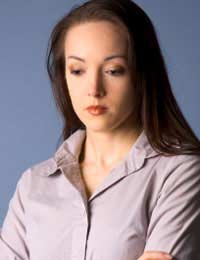 Depression can be the end culmination of many events in one's life and can occur from chemical imbalances in the brain as well. But for those who have suffered a sexual assault, they are more likely to suffer from major depression at some point after the assault takes place.
While treating depression in a sexual assault survivor must be uniquely tailored to the individual, there are fortunately a number of specialised treatment options. Above all, issues surrounding the assault must be resolved during the process of healing.
Dealing With Feelings After a Rape
When a person is raped, there is no limit to the number and type of feelings they may experience. While a majority of people will suffer from feelings of anxiety, fear and sadness, others will experience self-blame or even numbness.
Still others may pretend the rape never happened and may believe that 'burying' it will make it go away. Commonly, a rape victim can feel helpless and hopeless about the future. There can be physical scars along with emotional ones as well.
When is it Depression?
A lack of self-esteem and self-worth can leave a victim debilitated and struggling even to get through each day. While many will feel depressed after an assault, if the feelings persist, particularly if they affect work and personal life, this goes beyond sadness and may indicate clinical depression.
Destructive Actions and Suicide
Another issue is that a person who suffers from depression following a sexual assault may turn to harmful strategies in an effort to cope. Self-destructive behaviour or substance abuse with alcohol or illegal drugs can wreck havoc on the victim's body and perpetuate the depression. For some women or men who have suffered from a sexual assault, they may even commit suicide.
Treatment After Sexual Assault
To truly help prevent depression after a sexual assault, it is best if the person receives treatment right away. This will likely involve medical care to facilitate physical healing along with immediate crisis care followed by access to long-term counselling and psychological treatment.
The problem is that so many sexual assaults are never reported and both women and men may avoid seeking treatment. Even though statistically speaking, women are assaulted more frequently, men may be more hesitant to come forward about a rape due to lack of resources or embarrassment about the assault.
Those who seek treatment later may only be doing so after they have ceased to function day-to-day as they were prior to the sexual assault. At this time, it is more likely for depression to occur. A doctor may suggest antidepressants or another similar drug therapy along with counselling to help you emotionally work through the sexual assault.
Sexual Assault and Post Traumatic Stress Disorder (PTSD)
For people who have suffered from a rape or other kind of sexual assault, it is not uncommon for them to experience PTSD. Symptoms are similar to those of depression but tend to be shorter-lived.
These symptoms can, however, lead to clinical depression if left untreated. Also, if the sexual assault was particularly severe or the person had psychological problems prior to the assault, they can be at an increased risk of suffering from PTSD following the sexual assault.
Healing After a Sexual Assault
There is help available for victims of sexual assault but you should ideally seek treatment immediately following the assault. If you do find you are suffering from the symptoms of depression or PTSD, it is important that you talk to someone. For those who fear speaking to a doctor, just talking to a friend can help give you the courage to get medical help. Victims of sexual assault should not suffer in silence. With treatment, they can heal and enjoy life again.
You might also like...