Work and Education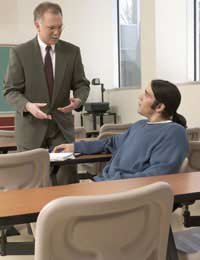 For most people their job or education will comprise a large part of the day. If you're suffering from depression, however, the strain of coping with the challenges of school and work can become overwhelming. More difficult still is when you find that your job or education is actually triggering your depression.
Is Depression Affecting Your Job Or School?
Depression can affect your entire outlook on life as well as cloud your concentration and motivation. Your work quality at school or on the job can suffer and if you are aware that it has deteriorated, you could feel even more anxious and depressed. You may need to take additional care with keeping track of classes or appointments and it can be helpful to maintain a planner to organize each day.
Is Your Job Or School Triggering Your Depression?
If you are dealing with depression, you need to investigate whether your job is a contributor to your illness and if so, how to best address the problem. Most people have bad days at work from time to time, but you need to assess if your workplace issues are temporary and if not, you should ask yourself if they could be contributing to your depression. You may find you have questions about your specific job or the field you are in, and will need to decide what your goals are and how best to meet them.
Ways To Cope
If you find that work or education-related stress is affecting your depression, you will need to find ways to cope with these stresses on a daily basis. Whether you decide to share your struggles with friends, colleagues or your boss is a personal decision that you are not obligated to do, but it can be helpful for them to know if your work quality is suffering. At the same time, keep in mind the unfortunate reality is that depression still carries a stigma and you may also be subject to unwelcome stereotypes. Some of the things you can do to cope with work or school related stress are:
Try to avoid isolating yourself from other students or coworkers.
If your memory is poor, as may occur from the depression itself or medications used for treatment, try to keep a notepad with you to jot down important information for meetings or classes.
Try to take a walk on your lunch break. Brief bouts of exercise can improve your moods and give you a change of scenery from the classroom or office.
You may not care much about your appearance while you are feeling depressed, but pushing yourself to put in a bit of effort to look your best can boost your self-esteem.
Try to maintain some sort of a routine so that you keep commitments and meet obligations and deadlines.
Try not to add too many new responsibilities, as you may already feel overwhelmed with the emotions and responsibilities of handling your depression.
Speak to your boss about a possible option to telecommute for those days when you do need to stay home. Although getting out of the house and into the office can be helpful in preventing isolation, some days you may just need a lighter day at home.
Taking Time Off
You may have reached a point where it is clear that you need to take time out from your studies or job. Students should speak to a personal tutor or university advisor who will likely require medical verification from a doctor. For employees, you should speak directly to your boss; some workplaces have a division for handling employee stress and you may find some assistance and guidance on how to proceed. You will also need to look at the financial aspect and determine if you can receive 'sick leave' or not. It can be a tough decision to take time off and it will likely require much thought but it may be the appropriate choice for you situation.
With work or education likely being a key part of your life, take the time to ask yourself how it could be affecting your depression or alternately, how your depression may be affecting your work. By using various coping strategies, you can better function to your potential, whether that is in the classroom or the office.
You might also like...