The Risks of Talking Therapy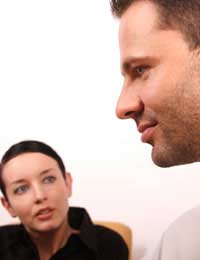 Talking therapy generally comprises areas such as counselling and psychotherapy. Most experts will agree that talking therapy is overall a helpful part of your depression management plan. How helpful it is will vary however, as some may be able to treat depression solely through talking therapies, while others will require a more comprehensive approach that includes medication and possibly alternative treatments. If you decide that talking therapy is right for you, there are some important factors to take into account, as talking therapies do carry some risks.
Good Counsellors versus Bad Counsellors
Counsellors should generally be open, supportive and gently challenging with the goal of providing a caring and empathic atmosphere for you to share your feelings. A good counsellor will be respectful and sensitive to your feelings and needs. A counsellor who is aggressive, strongly directive and perhaps even patronizing can be damaging to a depressed person who has poor self-esteem and perhaps sees him or herself as worthless and unimportant. Your counsellor should not abuse his or her power, sexually or otherwise, and certainly, most counsellors are ethical and considerate of their clients. If you do sense that a counsellor is behaving in a way that is unethical, you should contact the local registering agency to file a formal complaint.
Group Therapy Dependence
Group therapy can be helpful in that it lets you connect with others who share similar emotional and physical struggles in dealing with depression. The risk, however, is that you succumb to the power of group beliefs. This can somewhat limit you and may even prompt new problems that you weren't aware of. Some groups can also give you a sense of dependence, where you feel that you won't survive without the group and its meetings or be able to live without the group ethos.
Problems with Solution Focused Therapies
Solution focused therapies have shown great effectiveness in treating depression. The flip side, however, is that the focused and direct nature they embrace can be both beneficial and damaging to the client. Therapies that are geared to a solution and tend to utilize different techniques or approaches that involve, in some form, providing skills and advice to the client. The client can clearly decline to use a technique if he or she feels uncomfortable with it, but a client who is vulnerable and depressed is often relying on the therapist to 'solve' their problems.
If a technique is utilized inappropriately by the client or perhaps performed exactly as intended but the outcome is not favourable to the client, he or she can direct resentment and anger to the therapist. In this sense, the danger here is that the client becomes more frustrated and hopeless in dealing with the depressive illness. It isn't to say that the counsellor is responsible, but only that the client's view of the counsellor being responsible can be damaging to his or her depression management.
Labelling
If you receive a mental health diagnosis from a psychiatrist, for example, this can be helpful in narrowing your own search for treatments and information. It opens up a specialized area for you to delve into as you search for the best possible treatment. At the same time, labels used during talking therapy can be limiting in that they hold you within your diagnosis. You may even disagree with your diagnosis and feel mislabelled. With labels come societal stigmas, which are unfortunate because depression is a challenging and real illness and stigmas only add to the difficulty in obtaining effective treatment. A person may begin to believe they are their illness and in the case of depression, this can increase feelings of guilt and worthlessness.
Client Attachment
Developing a warm and trusting therapeutic relationship is important and can help a person to share feelings and experiences related to their depression. It can also be quite natural for a client to develop a sense of care and appreciation for a therapist.
For some individuals, however, this appreciation becomes one of intense attachment, particularly when the therapist is actively guiding the client. The client may depend on the therapist to solve new problems as they arise and may feel unable to function without the help and guidance of the therapist. Although the therapist can take steps to encourage a client to manage depression independently, the client does often begin therapy in a very isolated and lonely state, which can lead to strong attachment as the client enjoys receiving the attentiveness of the therapist.
Chemical Basis For Depression
One criticism of talking therapy is that it ignores the physiological aspect of depression. If your depression symptoms, such as sadness and isolation, are triggered by a chemical abnormality in your body, then talking therapies will not be as effective. You thus run the risk of your illness progressing by solely utilizing a talking therapy. The solution to this concern is to ensure that you do see a doctor for diagnosis and he or she can prescribe medication if it is appropriate for you. If you simply go straight to a psychologist or counsellor, you may struggle more trying to address a depression on the emotional and mental levels, while the physical causes are left to intensify.
Try to be aware of the various risks involved with talking therapy and do trust your gut instinct. If something isn't feeling right, talk to a friend or family member for objective input and be sure to report any therapist malpractice to the appropriate authority.
You might also like...