Finding a Confidant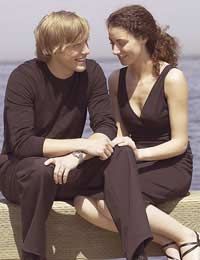 A common feeling experienced as a symptom of depression is loneliness and isolation. In fact you could be surrounded by people who care for you yet still feel completely isolated. You may also find you withdraw from social activities, friends and family. This type of withdrawal can, however, leave you bottling up your feelings and your depression may become more difficult to manage. Medications can only do so much, and finding a trusted person to confide in and share your struggle with can make an enormous difference in your recovery from depression.
Trust And Reliability
Finding a confidant can be difficult if you have a hard time placing trust in others. Perhaps your trust has been betrayed on numerous occasions and you have difficulty believing people are genuine. When you lose faith in others, it can be extremely challenging to learn to be vulnerable again by sharing intimate fears, hopes and issues you are facing. Lack of trust in people is a strong barrier to finding and maintaining a close relationship with a confidant. Some areas to focus on in learning to trust a confidant are:
Forgiveness: By forgiving those who have previously betrayed your trust, you allow yourself to heal and can approach your relationship with a confidant without the 'baggage' of previous betrayals.
Openness: By risking yourself a little and being vulnerable, you can share more of yourself with a confidant, and this can deepen the relationship.
Be trustworthy yourself:Having confidence and faith in your own trustworthiness can make it easier to extend that emotion to other people.
If you have been let down by people, you might find it frightening to rely on a confidant to 'be there' for you. You may find it easier to trust someone who is consistently reliable because you will not doubt that they will continually offer support. Those people who have show consistence in their offerings of support may be ideal persons to take on as a confidant.
Friends and Family Members
The ability to confide in someone tends to come when you feel close and comfortable with that person. Finding a confident may involve going outside of your current familial and social circle and meeting new people who you can develop deep friendships with, or it may involve strengthening current relationships. If you have a particular friend or family member who you are thinking to confide in, you may want to develop the relationship by spending more time together socially. One-on-one interactions can be more comfortable and because the focus is narrower, you have a better chance of learning more about that person and deepening the relationship. This can open the door to confiding the less superficial parts of yourself.
Self Help Groups
If you feel that you don't have anyone in your life at present who could be a confidant, you might find that self-help groups for depression are a way to meet new people. Such people are likely to have an understanding and empathy for your depression, having struggled with similar experiences themselves, and may be willing to offer individual support as a confidant. Alternately, you may be able to offer the same level of support for that person's personal challenges and issues.
Counsellor
Some may view a confidant in terms of a close friendship but a confidant can be anyone who you are able to trust with intimate details of your life. It is someone who you can confide in; for many people suffering from depression, a counsellor is just that person. The difference here is that depending on the type of counsellor you choose, he or she may also be providing techniques and suggestions for how to handle your depression. If you are only looking for someone to 'unload' with and share your feelings, without the input, you may wish to find a counsellor who is not solution focused.
Meeting People
If a challenge for you in finding a confidant is meeting people and developing friendships, you may wish to try new activities where you can extend your social circle. Some of the ways you can try meeting new people are:
Volunteer work: This can introduce you to many different people, sparking friendships with people you may wish to confide in. It can also provide many other benefits, such as increased self-esteem and the warm feeling that comes with providing services to those who need it.
Sports: You may want to join a local sports team, which will allow you to reap the benefits of exercise while making new friends.
Public interest groups: Local community centres tend to have bulletins for various groups and get-togethers involving people who share common interests. You may find a group for areas such as writing, cooking or hiking. You can meet new people and may then develop close friendships.
Finding a confidant may mean strengthening current relationships or seeking out new friends and developing those friendships. If there is a great deal of trust involved, you will likely have an easier time sharing the feelings surrounding your depression. By talking with a confidant about your depression, you can release some of the negative and stressful emotions that are holding you down, and can successfully move forward in your recovery.
You might also like...