Nutritional Supplements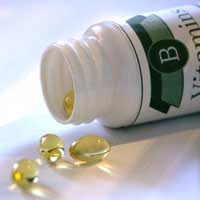 Many prescription drugs for depression although helpful, can cause severe side effects, there has been a great deal of interest in natural substances to treat the symptoms of depression without the often significant and uncomfortable side effects. You may be looking to enhance the effects of prescription medication with natural methods for your depression. Some may even be able to rely solely on supplements and lifestyle adjustments.
Finding the most appropriate and effective supplement for depression, however, can seem an exhausting and confusing task. There are virtually hundreds of different supplements that claim to treat or 'cure' depression and very few tend to follow through on that promise. There are indeed effective natural supplements to aid in the treatment of depression and the overwhelming task is to discern which of the countless supplements available are right for your depression.
St. John's Wort
St. John's wort is an herbal supplement that has been used for centuries to treat various nerve and mental disorders. The flowering parts of St. John's wort are utilized to make teas or the concentrated extract is used to make capsule and tablet supplements. There has been an enormous amount of controversy regarding the effectiveness of St. John's wort in treating depression. The most recent studies showed that St. John's wort was not effective in treating severe depression but those who support the use of St. John's wort cite that it has never been purported to treat anything but milder to moderate forms of depression.
You should also be cautious because St. John's wort may increase your sensitivity to sunlight as well as cause anxiety, dry mouth and stomach discomfort. It can increase or decrease efficacy of other drugs you may be taking so you should speak with your doctor before taking St. John's wort. Overall, St. John's wort does, however, carry substantially fewer side effect risks than prescription medication so if your depression is not severe, you can speak with your doctor about trying St. John's wort.
SAM-e
S-adenosyl-methionine (SAM-e) is a substance derived from the coupling of the amino acid methionine along with a substance involved in energy production. SAM-e increases the actions of the neurotransmitters dopamine and serotonin, amongst others, and therefore improves mood and helps with the symptoms of depression. SAM-e has been found to help with the poor mood, fatigue, anxiety and stress that are associated with depression and benefits are often felt within days. The full effect of SAM-e supplementation, however, can take several weeks as with prescription antidepressants. Side effects are generally uncommon and aren't usually significant. Gastrointestinal discomfort is the main one and is more likely to occur if other medications are used.
5-HTP
5-Hydroxytryptophan (5-HTP) is a compound synthesized from the amino acid tryptophan and it is also a precursor to the neurotransmitter serotonin, which is important in mood regulation. Since serotonin is thought to be low in many people with clinical depression, the use of 5-HTP could be beneficial. It has also been suggested that 5-HTP is comparable to antidepressant therapy in the treatment of depression, but studies are still mixed and inconclusive. It is important that if you do take 5-HTP for depression, you should avoid taking it with protein foods, as amino acids can 'compete' and you won't obtain the full therapeutic benefits.
Ginseng and Gingko Biloba
Ginkgo biloba is an herbal supplement that can be useful in easing the symptoms of depression, particularly in the elderly. Elderly often have reduced blood flow in the brain; studies have suggested that circulation is boosted by ginkgo biloba. It is generally considered safe although very large amounts may cause diarrhoea and anxiety. Ginseng is another herb that can affect the neurotransmitters important for mood, such as serotonin and dopamine. It can thus be helpful in improving mood and imparting a sense of well-being.
B Vitamins
The B vitamins include thiamine (B1), riboflavin (B2), niacin, pyridoxine (B6), folic acid, pantothenic acid, biotin, cobalamin (B12) and choline. The B vitamins are vital for healthy and normal brain functioning, particularly for the manufacture of neurotransmitters and energy regulation. Exhaustion, fatigue and restlessness are all symptoms of a B vitamin deficiency as well as depression, and numerous studies have shown that correcting a deficiency of B vitamins can provide favourable mood benefits. Eating a range of lean meats, whole grains and vegetables can help ensure adequate B vitamin intake.
One of the important considerations in choosing a supplement is to check if clinical research exists to show its effectiveness. You also should consider the minimum dosage suggested to offer benefits and verify the potency of the active ingredients as well as confirming that the manufacturer has a good reputation. In addition, your doctor may well be familiar with nutritional supplements for depression, so it might be helpful to see if he or she can offer any input as well as provide any cautions. A naturopathic doctor may be an excellent complement to consider, as they tend to have specialized training in nutritional supplementation for various disorders. Ultimately, a healthy diet that incorporates a wide variety of nutritious and whole foods is a great place to start in your aim to treat depression, and supplements or medication can follow.
You might also like...