Diagnosing Depression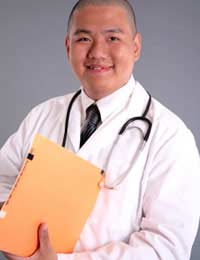 One of the biggest challenges in addressing depression is accurately diagnosing it in the first place. Depression can present vague with confusing symptoms and a diagnosis can easily be missed. A depressed person might present a variety of non-specific physical and emotional symptoms and a doctor must be very thorough to determine a correct diagnosis of depression. In addition the difficulty in accurate diagnosis is further compounded by the fact that many medical problems share the same symptoms of depression and in fact, some of these may directly be causing the depression.
Physical Exam
Your doctor will likely conduct a physical exam. A range of medications and illnesses can cause symptoms similar to those experienced with depression, and your doctor will want to ensure that a physical cause is not responsible. Your doctor will also question when your symptoms began to occur as well as how long they have been present. In addition, your doctor will probably take a thorough family history to check for any substance abuse or symptoms of depression alongside other illnesses. Although there is no definitive 'test' to confirm depression, your doctor will be evaluating all of the information you share and will use this to determine if you have clinical depression. Some of the physical symptoms that may be present are:
Increased or decreased appetite leading to weight gain or weight loss
Headaches
Chronic pain and exhaustion
Gastrointestinal complaints such as nausea, diarrhoea, constipation, indigestion
Non-specific aches and pains throughout your body
Psychological Exam
Your doctor may discuss the severity and quality of your symptoms in depth and this can be difficult, but try your best to be as open and honest as possible. Your doctor should be attentive and shouldn't judge you. Your doctor may refer you to a psychologist or psychiatrist for further questioning. In particular, he or she might feel that a psychologist can better assess your potential depression and can then make more accurate treatment recommendations.
Medical History
Your doctor will need to examine your medical history in the process of making an accurate diagnosis. Some of the questions you may be asked are:
What are your current symptoms and how long have you had them?
Do you have thoughts of suicide and if so, have you thought about how you would take your life?
Do you have any other medical conditions, past and present?
Are there any recent traumatic events that occurred in your life?
Do you have feelings of sadness, hopelessness and fatigue?
Is there any history of drug abuse?
Symptoms Suggesting A Depression Diagnosis
Depression can present an enormous range of symptoms and your doctor will evaluate each of these carefully. Symptoms can also vary in their intensity and duration but usually, if you have been experiencing them for two weeks or more, a diagnosis of depression is more likely to be given. Symptoms of depression are those that interfere with an individual's ability to function in any normal manner. This means that if your symptoms are preventing you from working, sleeping and enjoying your usual daily activities, you should see a doctor to examine you for depression. Two of the main areas that indicate depression are a depressed mood and loss of interest in once pleasurable activities. You may be feeling:
Sad
Hopeless
Anxious
Exhausted
Worthless
Restless
Activities that were once a source of pleasure but perhaps are now considered a chore or something you dread are:
Social activities
Sleeping
Eating
Exercise
Work
Family
Sex
If you are experiencing any of the symptoms above and have been for several weeks, this is often sufficient in itself to prompt a diagnosis of depression.
Medications, Conditions and Depression
It is possible that medications you are taking have triggered your depression. Before making a diagnosis of depression, your doctor will also consider medications that can cause a number of symptoms similar to depression. Medications that may be causing your depression symptoms are:
Blood pressure medications such as beta-blockers
Steroid medications
Benzodiazepines
Another factor that will play a role in the treatment of depression is whether it is being caused by another condition. There are a number of treatable conditions that cause depression and as such, treating these conditions can help improve depression symptoms. Therefore, as part of diagnosing depression, your doctor will also consider these diseases. It is important that you are clear with your doctor about any other pre-existing illnesses. These might include:
Diabetes
Parkinson's disease
Dementia
Stroke, particularly if recent
Thyroid disease
Brain tumours
B12 deficiency
Cancer
Fibromyalgia
Arthritis
Recognising depression is often difficult and this may present one of the more challenging aspects of subsequent depression treatment. The unfortunate reality is that a great number of people who are depressed never receive a proper diagnosis and their depression is left untreated. One of the most frightening risks of untreated depression is that suicide may occur and for this reason, in addition to the already debilitating symptoms of depression, it is imperative that accurate diagnosis is made. Once you have received a diagnosis of depression, you can then begin treatment and hopefully alleviate your symptoms.
You might also like...