Drug Interactions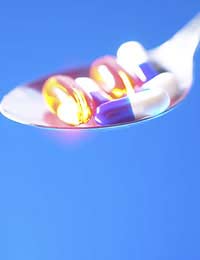 Drug interactions can occur with drugs you may be taking for depression and these can decrease the effectiveness of your medications cause side effects, or even increase the mechanism of a specific drug. Caution is important also because drug interactions can be potentially harmful or fatal. It is important to read labels for each drug, whether that is a prescription or over-the-counter one. By arming yourself with knowledge, you can reduce the risks associated with medications and you can help to prevent any uncomfortable or harmful drug interactions and side effects.
Drug To Drug Interactions
Drug-drug interactions occur when one drug reacts with either one or several other drugs. For example, you may be taking an antidepressant medication and you may also wish to take an antihistamine to deal with allergies. Or perhaps you are taking a nicotine replacement product and are also on antidepressant therapy. Either of these two combinations can have dangerous effects although individually, they are generally safe to use. Nicotine replacement products, for instance, tend to have a stimulatory effect and if you are taking a medication for your depression that also has this effect, the result is an exacerbated excitability that can be quite unpleasant. Alternately, antihistamines can be fairly sedating so when combined with a sedating antidepressant, your concentration level can be strongly affected. Operating a car or any other machinery could be particularly dangerous if you are drowsy and your focusing is impaired. Other medications can increase or decrease the ability of drugs you may be taking for various conditions. For instance, tricyclic antidepressants such as amitriptyline can reduce the effectiveness of some blood pressure lowering medications.
Overall, the newer antidepressants called selective serotonin reuptake inhibitors (SSRIs) should not be mixed with various mood stabilising drugs such as phenelzine, as this can result in a dramatic increase in blood pressure. Antidepressants such as fluoxetine also react badly with herbal supplements such as St. John's wort as well as some of the triptans, which are commonly used to treat migraine headaches. Effects from these drugs ingested together can involve dizziness, confusion and shakes.
Drug To Food and Beverage Interactions
Certain drugs you may be taking for depression can cause adverse effects with specific beverages or foods. Alcohol is a common beverage that can increase the effects of a drug, leaving you with a slowed reaction time or extreme fatigue. Some of the anti-anxiety medications such as lorazepam and diazepam should not be taken with caffeine-containing foods and beverages, as you can be left with extreme excitability and hyperactivity.
Monoamine oxidase inhibitors (MOAs) have a great many dietary restrictions. Failure to adhere to these restrictions can cause a quick and possibly fatal surge in blood pressure, particularly if alcoholic drinks or foods high in tyramine are consumed. Examples of tyramine containing foods are certain cheeses and cured meats.
Drug To Condition Interactions
Drug-condition interactions occur when you are taking a drug, or combination of drugs, to treat a medical condition, and the side effects cause additional problems with another medical condition. If you suffer from any bowel disorders such as Crohn's disease, for example, you may find that the gastrointestinal side effects of antidepressants are increased. In addition, bladder conditions such as interstitial cystitis may be more painful from the increased urinary retention that can occur as a side effect of some depression medications.
What Can I Do?
It is vital that you speak with your doctor or pharmacist regarding all of your medications. If your doctor prescribes a new medication, ensure that you are clear with him or her about any other drugs you are taking as well as any dietary or herbal supplements, vitamins and minerals you are consuming. Furthermore, ask questions about food and drink interactions, especially if you normally drink alcohol, as this is a common beverage to cause unwanted side effects. You can also ask your doctor some of the following questions:
Is this medication okay to take with other drugs?
Are there any foods or drinks I should avoid?
What signs will I notice if an interaction does occur?
Is there anything else I should be aware of?
You should always read drug labels thoroughly and ask questions if you are unclear about potential interactions. A drug label will typically explain:
What the drug will do in your body
The medical condition it is used for
Potential side effects
How to ensure safe usage of the drug
Possible drug interactions and how to avoid or reduce these
Your depression medications can treat your symptoms but they must be taken as directed for maximum benefit and minimal risk. Read all information carefully and ask questions if you have any doubts about interactions. With a bit of effort and time to ensure you are clear on how to take your medications and what to avoid, you can get the full benefit from your depression prescription.
You might also like...