Mood Stabilisers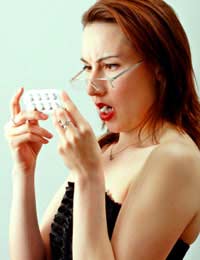 Mood stabilisers are medications commonly used to treat bipolar disorders which often accompany depression. They are thought to maintain an individual's mood at a more stable level and they also help to reduce the frequency and severity of new mood fluctuations, particularly low ones. A mood stabiliser is different from an antidepressant but still works symbiotically with antidepressants to treat a bipolar type of depression.
The mood stabiliser is most effective at treating mania while an antidepressant can be prescribed alongside a mood stabiliser medication to treat both highs and lows. A mood stabiliser functions to smooth and even out the highs and lows that people experience, leaving moods steadier and reducing intense fluctuations that may occur. Some people find that their moods vary rather quickly, perhaps several times a day, while others experience a low for several days to several weeks, followed by a high.
Lithium
Lithium is thought to affect neurotransmitters such as serotonin. It is given in therapeutic dosages to treat the higher, excitable moods of bipolar depressive disorder. These are often known as mania and lithium is considered effective in treating these as well as generally preventing the highs and lows many people experience. Lithium is available in the salts lithium citrate and lithium carbonate. Some of the potential side effects, which many patients will experience, are minor but can be quite uncomfortable. These are:
Tremors
Dry mouth
Weight gain
Excessive thirst
Frequent urination
Sexual dysfunction
Gastrointestinal upset
Anticonvulsants
Anticonvulsants are another medication used to treat depressive bipolar episodes. It is thought that they increase the amount of a brain chemical called GABA while also reducing a brain chemical called glutamate. Anticonvulsants stabilise moods by normalising electrical activity in the brain, which then eases mania episodes. Some anticonvulsants that may be prescribed are:
Carbamazepine: This is one of the first anticonvulsants to be used for stabilising moods and although not considered as effective as lithium, it is still overall an effective treatment for stabilising moods.
Sodium valproate: This is a commonly used anticonvulsant for bipolar depressive disorder. It is considered more effective than carbamazepine and is comparable to lithium.
Lamotrigine: Lamotrigine has shown success in treating various bipolar states, particularly in people who have not obtained sufficient relief from lithium, carbamazepine or valproate. Its antidepressant affect is thought to be higher and when combined with its mood stabilising effects, it can be an excellent option for some individuals. Those who have depression associated with post traumatic stress disorder have also been shown to obtain relief from lamotrigine.
Some of the side effects found with anticonvulsants are minor and will ease as use progresses. If they become too bothersome you can speak to your doctor about possibly altering the dose or trying another mood stabiliser. Side effects can include:
Nausea
Dizziness
Fatigue
Tremor
Weight gain
Your doctor or psychiatrist will discuss the mood stabilisers that are appropriate for your depression and any other diagnosed mood disorders that are present. Be sure to follow the directions for use and alert your doctor to any side effects or concerns that may prevent you from continuing treatment. Your mood stabilising medication is meant to help you feel better throughout your day and can leave you feeling stronger and more capable of handling your moods.
You might also like...